Olga Moroz
Personal Trainer
Strength Training | IJburg, Amsterdam

Certified Personal Trainer (NASM)
Certified Group Fitness Instructor (ACE)
PERSONAL TRAINING
GYM (IJBURG) / OUTDOORS / HOME / ONLINE
Elevate Your Fitness:

Improve your strength,
Increase your stamina,
Widen your range of motion,
Learn sustainable and healthy movement patterns and biomechanics,
Make steps to loosing weight, becoming more confident, vibrant and strong!
FIRST TRIAL IS FREE!
PRICE:
One Drop-in Session - €80
3-Month Packages:
- Once per Week: €1,200 (€400/month)
- Twice per Week: €2,000 (€667/month)
- Tree times per Week: €2,800 (€933/month)
Prices include 21% BTW.
REGISTER BELOW!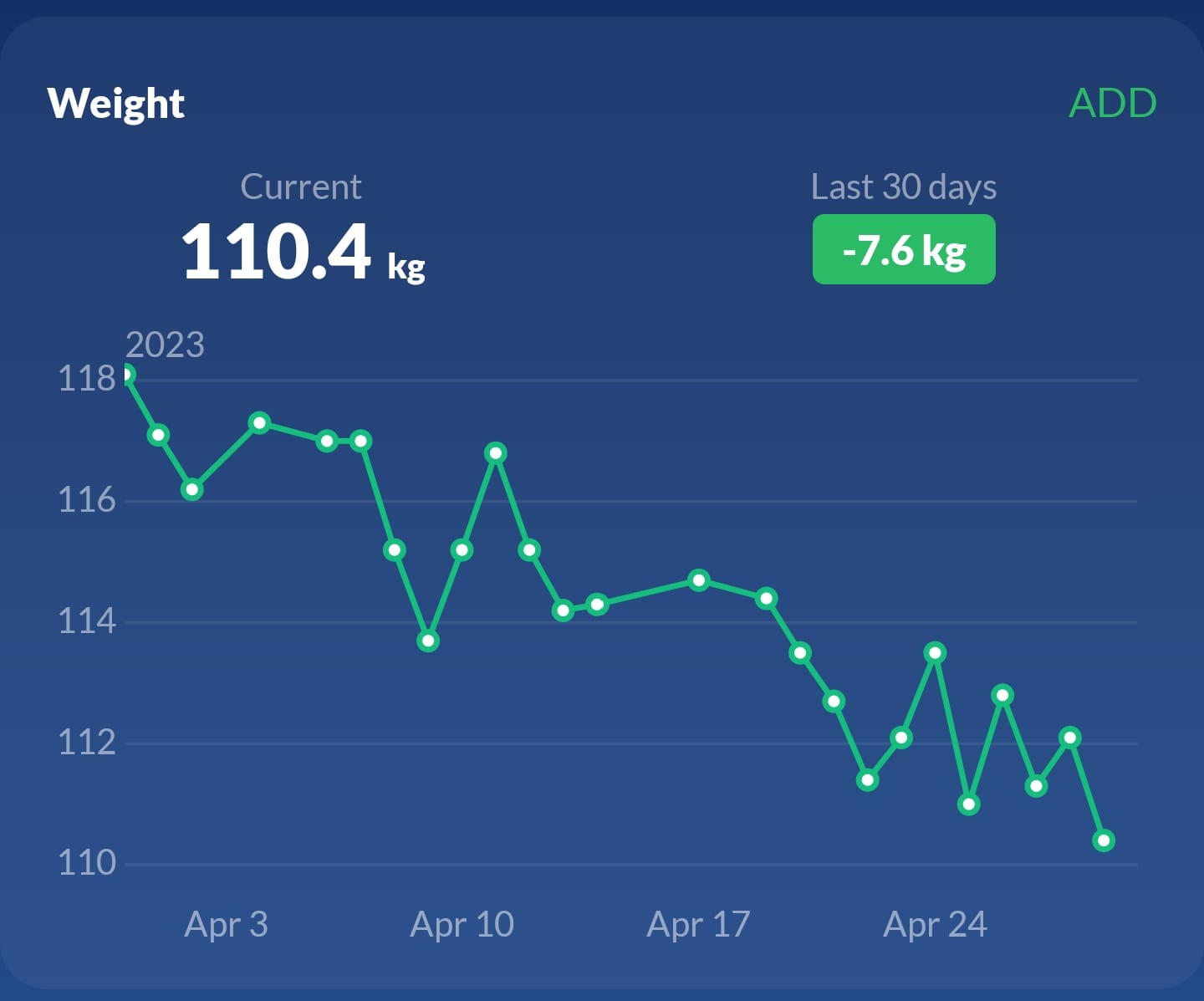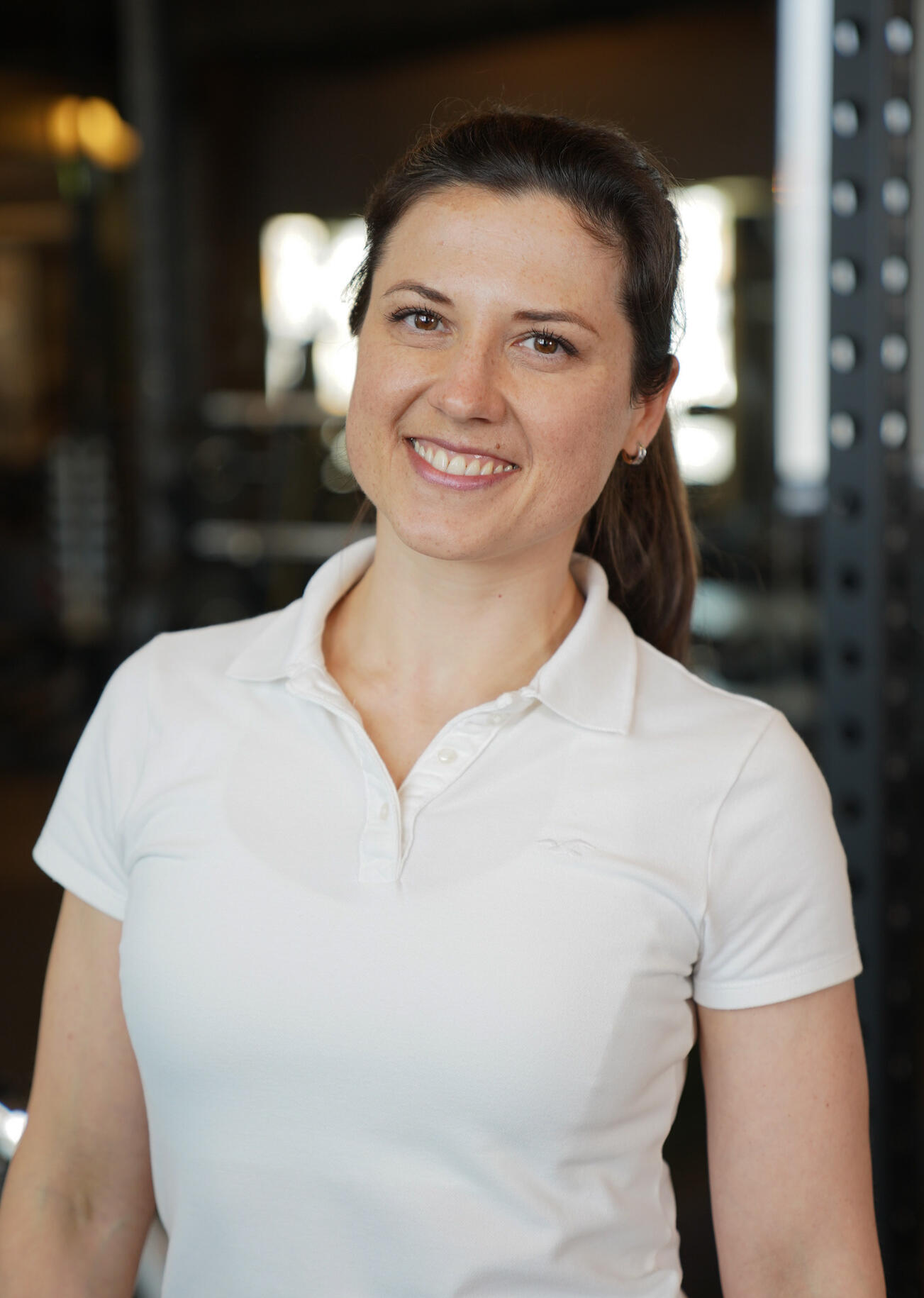 SMALL GROUP
WEIGHT TRAINING CLASSES (4 people) - please inquire.
ATTENTION GIVEN TO EACH ATHLETE.
A GYM-QUALITY WORKOUT
ONLINE AND OUTDOORS
Locations:
IJBURG ZUID (water locks by Nico Jessekade/Wim Noordhoekkade canal),Theo van Goghpark,online via ZOOM.
Fall 2021 Schedule:


please inquire
FIRST TRIAL IS FREE!
Price:
Monthly Membership 2 times per week €200
Monthly Membership 3 times per week €300
INQUIRE BELOW!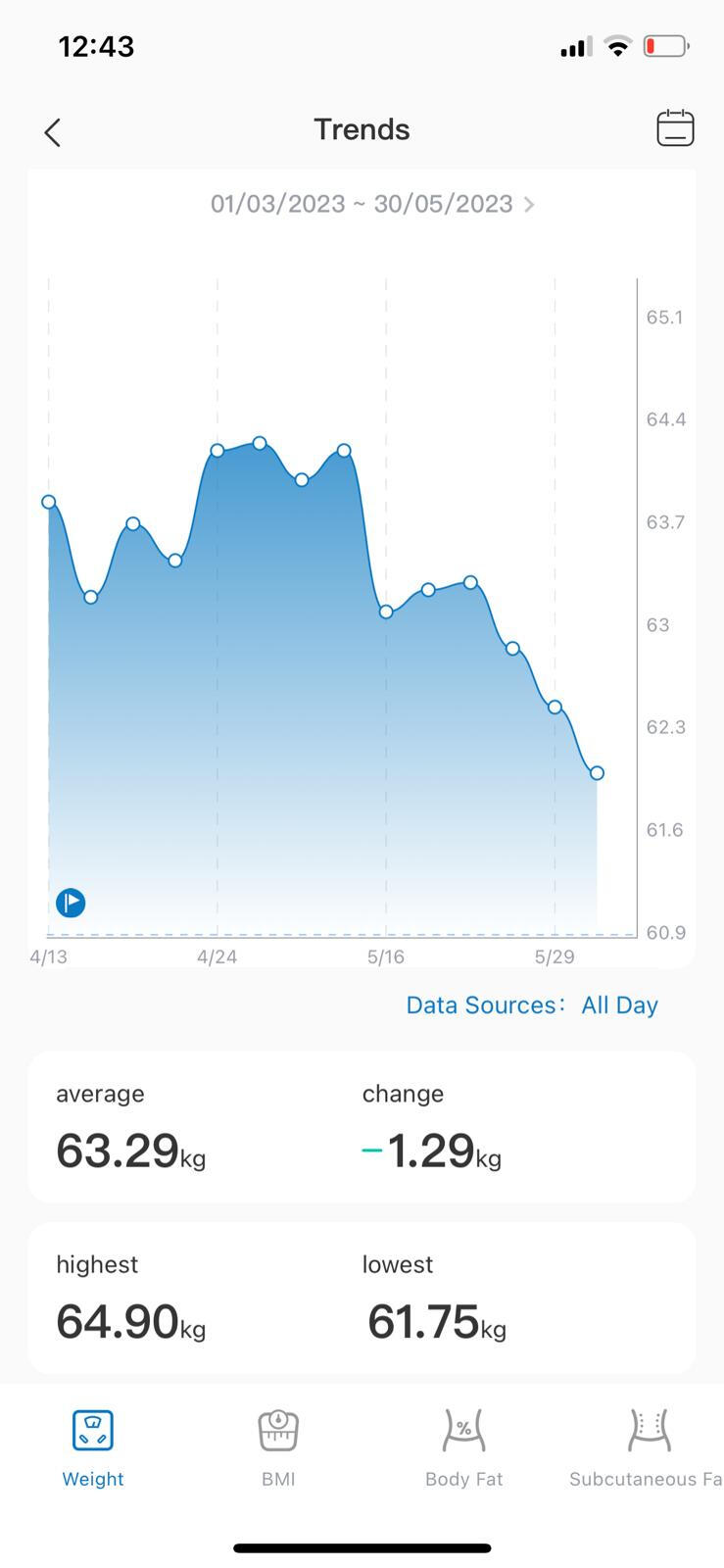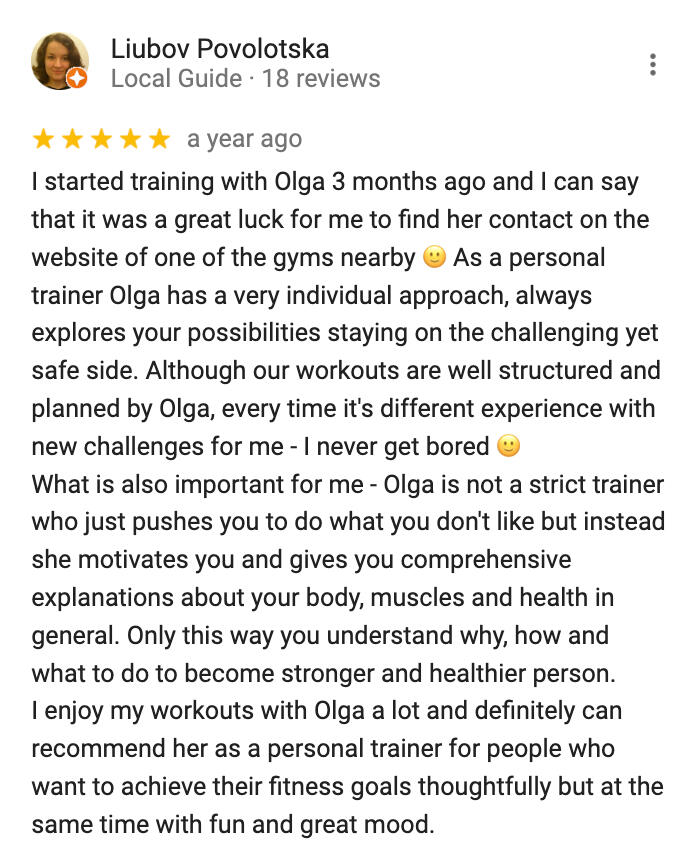 Hi, my name is Olga. I am a 38-year old woman, a mother, and a partner who loves and appreciates life in every way. I live in Amsterdam, and I am super-lucky to do what I LOVE - helping people become more healthy, energetic and thriving!

Besides regular strength training I'm a practitioner and an advocate for Fasting, Meditation, good Sleep, Nutrition, Cold Water Plunges, Red and Near-Infrared Light Therapy.

I love meeting new people! Say hi, ask me any questions! I'd love to meet and know more about you, your goals and how I can support you in your fitness and wellness journey.

Book my free consultation and a mini-workout session or message me at +31625239544. WhatsApp works best.

Get connected with me on social:
Instagram: @olgamorozfit, Facebook: Olga Moroz Fit.

Education:
Certified Personal Trainer by National Academy of Sports Medicine (NASM)
Certified Group Fitness Instructor by American Council on Exercise (ACE).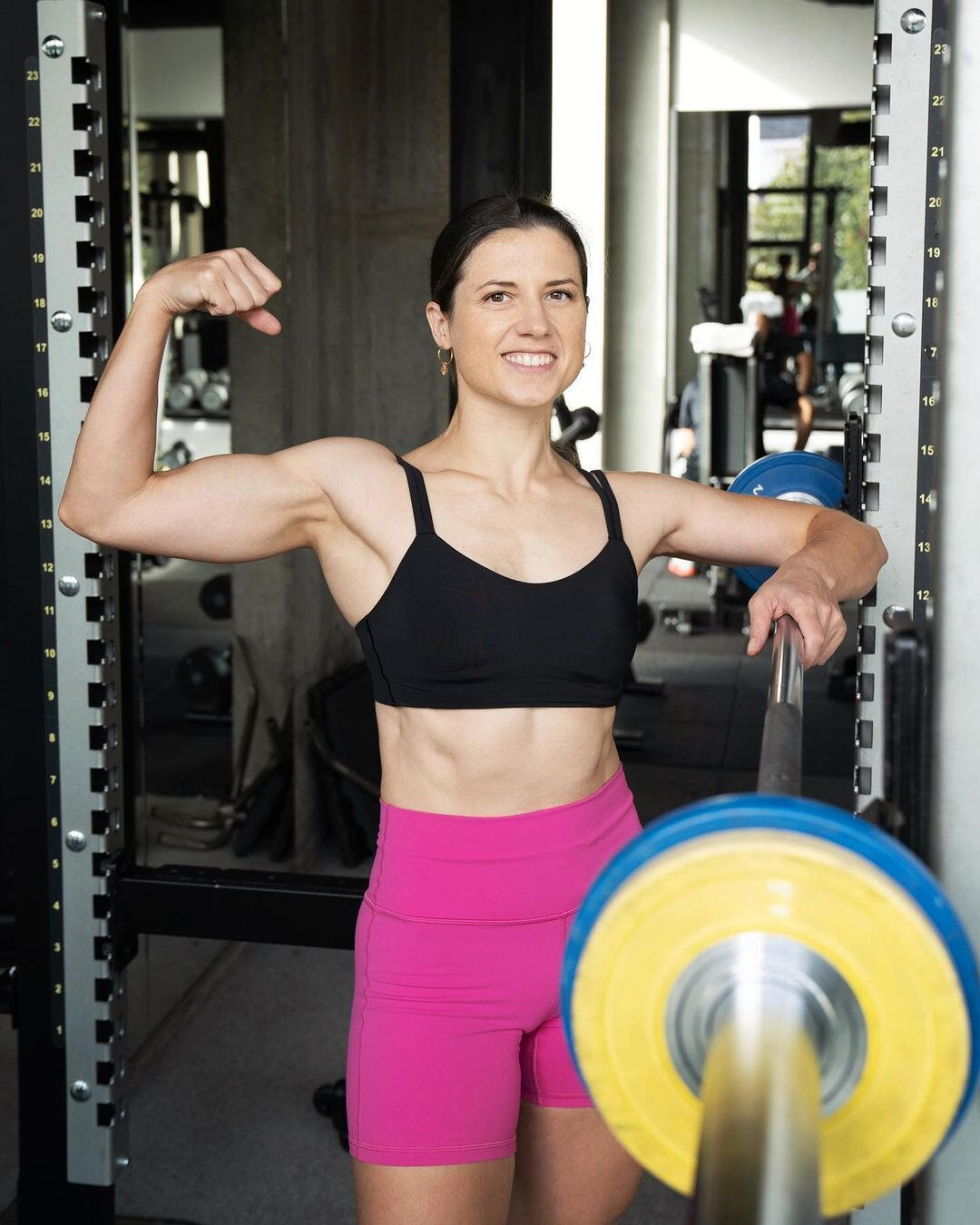 What my customers say...
Olga is a great trainer. She has a great focus on technique so if you're going to train by yourself you know how to do it properly. She will do the exercises with you so you feel very supported in your struggle to keep going. It's very clear Olga wants me to succeed in my goals and I feel very supported by her.

Stephanie, 28, Ijburg Resident
---
"I have been training with Olga for a few months and I highly recommend her! She takes personal training to another level, with special attention to wellness, knowing and respecting your body and its possibilities, whilst pushing you towards your goals! 🔥"

Aarti, 40, Amsterdam (Ijburg) Resident
---
"Exercise with Olga always leaves me more confident in my own power. She always makes sure I find the right connection; both physically and mentally and she's always there to stop me from doubting myself."

Rachid, 41, Ijburg Resident
---
"I'm shocked by how much of an impact once a week workouts with Olga as my personal trainer have had on how my body feels and moves. As an office worker, my posture's improved, I have more energy and I move more freely up and down stairs. Olga's keen eye to improve my form gives me confidence in the gym and its translated to how I present myself to the world. "

Arran, 37, Ijburg Resident
---
"Olga has been my trainer for almost 6 months now and I can't recommend her enough. There are many things that I love about her and her trainings; her attention to details so you will be always taken care of ( I had some back pain and other physical problems), she is always looking for those exercises that maximizes your results and get you not just in good shape but overall healthier, her enthusiasm to study the latest research ( she loves the science behind each exercise, you can tell !!!), and also I see her approach more holistic ( something that I didn't have before with other trainers). She cares about you not just as a trainer but as a human being . It is so easy to see all the passion she puts in her work. Thank you, Olga!"
Viri, 36, Amsterdam (Ijburg) Resident
Privacy Policy
Olga Moroz Services understands that your privacy is important to you and that you care about your personal data being handled properly. We respect the privacy of everyone who visits the website https://olgamoroz.com ("Our Site"). We only collect and use personal data in ways described here and in a way that is consistent with our obligations and your right to the law.

Please read this Privacy Policy carefully and make sure you understand it. Your acceptance of this Privacy Policy is deemed upon your first use of Our Site. If you disagree with and / or do not accept our Privacy Policy, you must immediately stop using Our Site.
---
1. Information about us

Our Site is owned and run by Olga Moroz Services, registered in the Netherlands under Chamber of Commerce number 69212511.
Registered address: Jan Vrijmanstraat 259, 1087 MN, Amsterdam
Owner: Olga Moroz
E-mail address: olga.moroz@gmail.com
Telephone number: + 316-25239544
Postal address: Jan Vrijmanstraat 259, 1087 MN, Amsterdam.
---
2. What does this Privacy Policy cover?
This Privacy Policy applies to Our Site. Our Site may have links to other websites. Please be aware that we have no control over how your data is used, collected or stored by those websites should you choose to visit them. We recommend that you check the privacy policies of the other websites before providing any data.
---
3. What are personal data?

The General Data Protection Regulation (GDPR) indicates that personal data (personal data) is all information about an identified or identifiable natural person. This means that information is either directly about someone or can be traced back to this person. Data from deceased persons or organizations is not personal data according to the GDPR.
---
4. What are my rights?

Under the GDPR law you have the following rights, which we always uphold:

The right to be informed about our collection and use of your personal data. This Privacy Policy should tell you everything you need to know, but you can always contact us to ask questions according to the details in section 12.
The right to access the personal data we hold about you. In part 11 we tell you how to do this.
The right to rectify your personal data when any of your personal data that we hold is incomplete or inaccurate. If this is the case, please contact us using the details in section 12.
The right to be forgotten i.e. the right to ask us to delete your personal data. If this is the case, please contact us using the details in section 12.
The right to prevent your personal data from being processed.
The right to object to us for using your personal data for a specific purpose or purposes.
The right to transfer personal data. This means that if you have directly provided us with personal data, we will use it with your consent or for the performance of a contract and that data is processed automatically and you can request a copy of your personal data so that in many cases you can reuse the data for another service or company.
Rights related to automatic decision making and profiling. We do not use your data in this way.
For more information on how to use your personal data or exercise your rights as described above, please contact us using the details set out in section 12.

For more information about your rights, you can also request this from the Dutch Data Protection Authority.

If you have a complaint about our use of your personal data, you have the right to file a complaint with, for example, the Dutch Data Protection Authority.